Vegetables
Vegetables – Weaver Seed of Oregon provides a wide variety of vegetable seeds for Cover, Forage and Organic Crops around the World.
Purple Top Turnips | Seven Top Turnips | White Egg Turnips
Shogoin Turnips | Florida Broadleaf Mustard
Southern Giant Curled Mustard | Greenwave Mustard
Tendergreen Mustard | American Purple Top Rutabaga
Collards | Red Radish | Dwarf Siberian Kale
---

Purple Top Turnips
Introduced before 1890. The smooth, round root is bright purple above ground and white below. Extremely tender when young. Tops are great steamed or in salads. Stores well.
---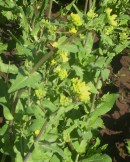 Seven Top Turnips
Plant produces high quality of tender turnip greens. One of the most flavorful fresh greens on the market. Roots are woody and should not be eaten. High in Vitamin A, B, and C.
---

White Egg Turnips
Plant produces good yields of white egg shaped turnips. Best when harvested when roots are small. Excellent storage variety.
---

Shogoin Turnips
A popular Japanese variety that has high quality, smooth white roots and delicious, mild tasting-greens, perfect for steaming or frying. Harvest leaves in just 30 days. Shogoin produces a large, ball-shaped trunip that can grow up to 6-8″ in diameter.
---

Florida Broadleaf Mustard
The broad, smooth, dark green leaves of this florida broadleaf mustard variety are highly nutritious. Plants grow to 12″-18″ tall and come into production quickly. The mild, spicy flavor is best when timed for harvest during cool weather. Use raw, steamed or cooked; either alone or mixed with other greens. 5-10 days to sprout.
---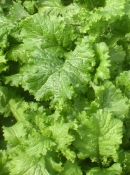 Southern Giant Curled Mustard
Beloved classic known for big yields of spicy greens. The bright green leaves are tinged with yellow at harvest, and the flavor is always pungent and full-bodied, with the authentic "mustard green" bite.
---
Greenwave Mustard
A favorite American mustard (or tendergreen) for many years. Popular with gardeners for its upright plant habit, it grows to 2 feet and has a dark green, heavily curled leaf. An excellent producer, Green Wave resists bolting, so it can be grown in mid-summer. Mild and succulent in all dishes.
---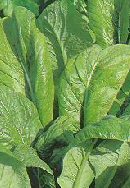 Tendergreen Mustard
Tendergreen Mustard Spinach, also known as Komatsuna, is a Japanese green that has been known in North America since at least the 1930's. Though not actually a true mustard, for its scientic classification is Brassica rapa var perviridis which places it only in the same family of plants.
Features thick, smooth, glossy green leaves of an oblong shape.
Tendergreen Mustard is widely used both in stir fry and in salads. Its tender leaves, as well as its flowering stems, are used raw or are cooked and have a flavor between mustard greens and cabbage.
Tendergreen Spinach Mustard is extremely hardy and is tolerant of drought and cool temperatures. It can stand temperatures to -12 Centigrade and can be sown throughout most of the year.
---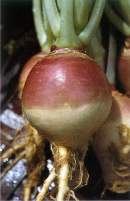 American Purple Top Rutabaga
Plant produces high yields of huge yellow roots with deep purple crowns. Very sweet flavor. Flesh turns orange when cooked. Excellent keeping variety.
---
Collards
A various loose-leafed cultivar, the same species that produces cabbage and broccoli. The plant is grown for its large, dark-colored, edible leaves and as a garden ornamental. They are classified in the same cultivar group as kale and spring greens, to which they are extremely similar genetically.
---
Red Radish
Radishes are rich in ascorbic acid, folic acid, and potassium. They are a good source of vitamin B6, riboflavin, magnesium, copper, and calcium. One cup of sliced red radish bulbs provides approximately 20 Calories or less, coming largely from carbohydrates, making radishes, relative to their size, a very filling food for their caloric value.
---
Dwarf Siberian Kale
Generally ready 50 days after planting. Slow to bolt. Long stalks are excellent for salads. Frilly dark leaves form a 24 inch diameter rosette at maturity.
---